Auphonic Add-ons for Adobe Audition and Premiere¶
The Auphonic Audio Post Production Add-ons for Adobe allows you to use the Auphonic Web Service directly within Adobe Audition and Adobe Premiere (Mac and Windows).
It is possible to export tracks/projects from Audition/Premiere and process them with the Auphonic audio post production algorithms (loudness, leveling, noise reduction - see Audio Examples), use our Encoding/Tagging, Chapter Marks, Speech Recognition and trigger Publishing with one click.
Furthermore, you can import the result file of an Auphonic Production into Audition/Premiere.
Download the Auphonic Audio Post Production Add-ons for Adobe:
Adobe Premiere¶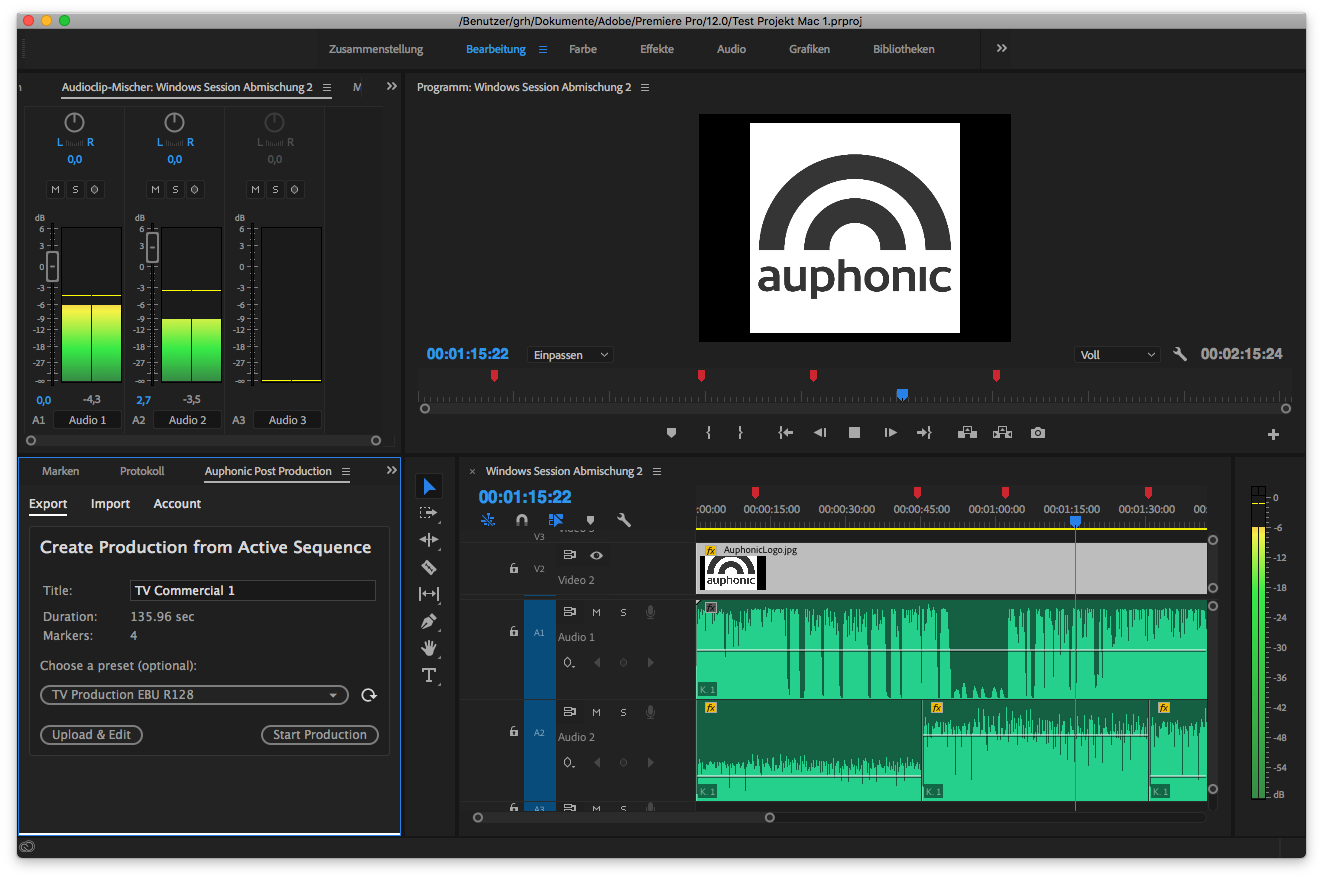 Export from Premiere to Auphonic¶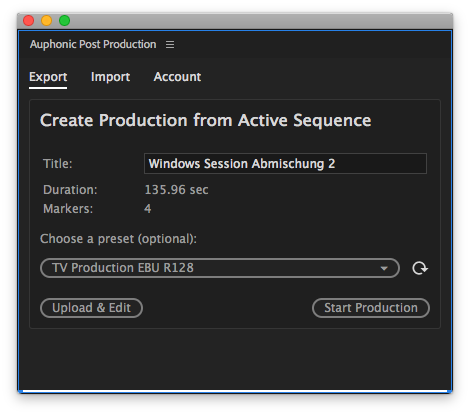 You can upload the audio of your current Active Sequence in Premiere to our Web Service.
Note
We will automatically create an audio-only mixdown of all enabled audio tracks in your current Active Sequence.
Video/Image tracks are ignored: no video will be rendered or uploaded to Auphonic!
If you want to export a specific audio track, please just mute the other tracks.
Start Production and Upload & Edit Buttons

Auphonic Presets

Chapter Markers

Audio Compression
Import Auphonic Productions in Premiere¶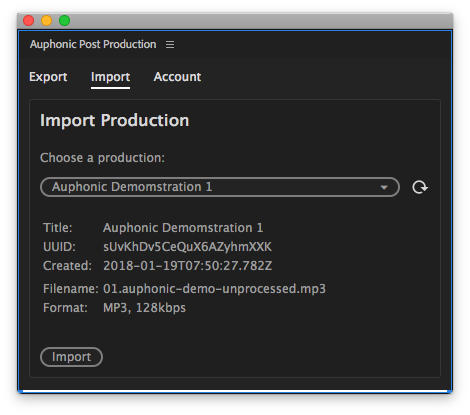 To import the result of an Auphonic Production into Premiere, choose the corresponding production and click Import.
The result file will be downloaded from the Auphonic servers and can be used within Premiere. If the production contains multiple Output File Formats, the output file with the highest bitrate (or uncompressed/lossless if available) will be chosen.
Installation¶
Install our Add-ons for Audition and Premiere directly on the Adobe Add-ons website:
Auphonic Audio Post Production for Adobe Audition:
https://exchange.adobe.com/addons/products/20433
Auphonic Audio Post Production for Adobe Premiere:
https://exchange.adobe.com/addons/products/20429
Warning
The installation requires the Adobe Creative Cloud desktop application and might take a few minutes.
Please also also try to restart Audition/Premiere if the installation does not work (on Windows it was once even necessary to restart the computer to trigger the installation).
After the installation, you can start our Add-ons directly in Audition/Premiere:
navigate to Window -> Extensions and click Auphonic Post Production.