As of today a new update of the free Auphonic iOS Recorder is available in the App Store. It includes workflow improvements, some new features and many bug fixes:
View Auphonic Recorder in App Store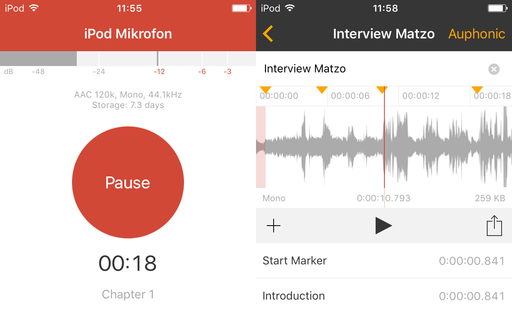 Recording (left) and Waveform (right) view of the Auphonic Recorder iOS app.
Changelog
Improved recording interface: remaining disk space, format, etc. is displayed during recording.
New recorder options menu: microphone and audio format selection, possibility to force mono recordings with stereo microphones.
Usability improvements when importing audio from other iOS apps: we removed confusing/duplicated sharing options and fixed problems while decoding files from other apps.
Added links to Auphonic productions, presets and external services directly in the app.
Possibility to export audio recordings by email (if that is still necessary) besides iOS sharing.
Better uploads to auphonic.com and iOS notification fixes.
A reworked waveform and marker interface.
Fixes for some external microphones.
Various bug fixes.
App Overview
Click on the screenshot to see more details: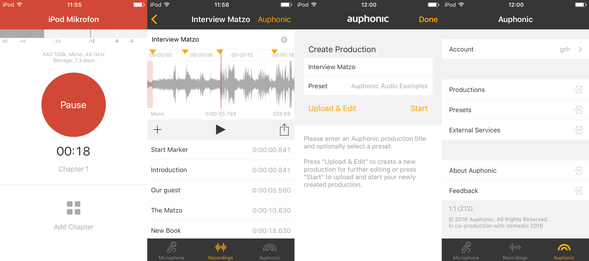 More information about the Auphonic iOS Recorder can be found in our release blog post: Native Auphonic iOS Recorder 1.0 Release.
Let us know your Feedback
Please send us your feedback, bug reports or feature requests to ios@auphonic.com.
View Auphonic Recorder in App Store