Today we released an update of the free Auphonic Edit Android app. It includes support for external storage devices, a new tablet layout, mouse support and much more.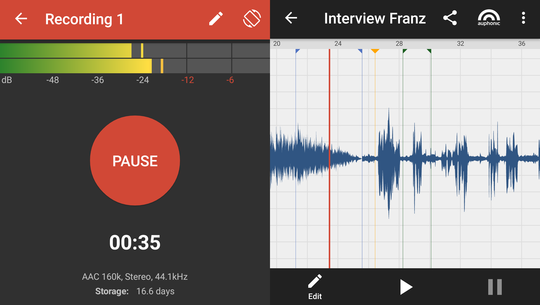 Auphonic Edit is a non-destructive audio editor and recorder with focus on ease of use, high-quality audio and stability. In combination with the integrated Auphonic web service, you can post-process, encode, tag and publish your podcasts, interviews, music recordings on the go with a single click.
View Auphonic Edit in Play Store
Auphonic Edit 1.1 Changelog
Support for External Storage Devices: now you can save your recordings on external USB drives or SD cards.
Tablet Layout: new horizontal layout for tablet users.
Mouse Support: use an external mouse for audio editing.
Introduction Showcase: new help/introduction showcase to get started with Auphonic Edit.
High-Quality Resampling: added high-quality resampling algorithms based on lilbsoxr.
Various Fixes: for new Android versions, layout/design fixes, performance improvements and much more.
App Overview
Click on the screenshot to see more details: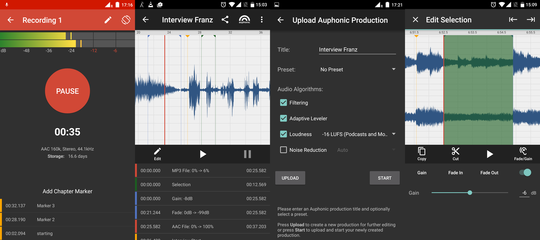 More information about the Auphonic Android Editor and Recorder can be found in our release blog post: Auphonic Edit 1.0 Audio Editor for Android.
Let us know your Feedback
Please send us your feedback, bug reports or feature requests to android@auphonic.com.
View Auphonic Edit in Play Store