Podcast hosting is difficult: you have to create an RSS feed, a webpage and you must be able to serve audio files to a huge number of clients on your release date.
That's why we integrated the popular podcast hoster Libsyn (Liberated Syndication) as an external service in Auphonic. It's a great tool for file hosting and automatic RSS feed generation after processing and encoding your productions with Auphonic – you can even record your podcast with the Auphonic App and publish it with Libsyn immediately! :)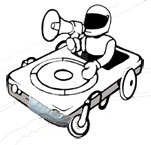 About Libsyn
Liberated Syndication was one of the first podcast hosting services when they started back in November 2004. They offer a monthly subscription model, see pricing and features.
In contrast to e.g. SoundCloud, which is more focused on music hosting, the available storage space in Libsyn is refreshed each month. For example, one package allows the producer to upload 250MB per month. Previous months are still available for unlimited download under the same URL.
Libsyn automatically generates RSS feeds with extended Apple iTunes podcasting tags and users maintain the ownership of their work.
To automatically export your productions to Libsyn, you have to register your Libsyn account at our external services page (or click here).

The show slug is a unique alpha numeric identifier for the show, which must be configured in your Libsyn show settings.
The server directory setting defines your publishing workflow:
/quickcast: The audio file is published immediately (RSS feed, webpage, etc.). The Auphonic title, summary and cover image is exported automatically and used for the title, description/show notes and image of the post.
/public: Same as quickcast and audio files are already downloadable, but you have to publish the post manually in the Libsyn interface (e.g. to RSS feed).
/dropbox: Files will appear in the Libsyn publishing interface under the Dropbox / FTP Queue section and you have to create a new post manually.
Form more detailed information see
Libsyn Uploading using FTP
.
Once registered, you can select your Libsyn account in our production form as an Outgoing File Transfer. We will always export an MP3 audio format to Libsyn and attach one if you don't select an MP3 output file.
The Libsyn team was very supportive during the integration of their service into Auphonic, and they set up a promo code for Auphonic users to get a month+ of free service. So if you are interested, you can try the Auphonic-to-Libsyn workflow for free.
You can find the Libsyn promo code for Auphonic users here (login required)!
To use the promo code, please go to Libsyn Signup and fill in the information requested.
Your new Libsyn account will remain free of charge until the end of the following month. So for example, an account set up on December 12th 2012 will not be charged until Feb 1st 2013. If you want to cancel your account, please do so before the end of the free trail period!
For more information about Libsyn account set up see A Beginners Guide to Libsyn.
Conclusion
The workflows supported by Libsyn and Auphonic complement each other perfectly:
And the most important thing: everything is automated, and you have to
upload your audio file only once
:) !