We just released version 1.4 of the Auphonic Leveler Batch Processor with many new features and fixes, including a new preset system, much faster processing (parallelization), algorithm improvements and more.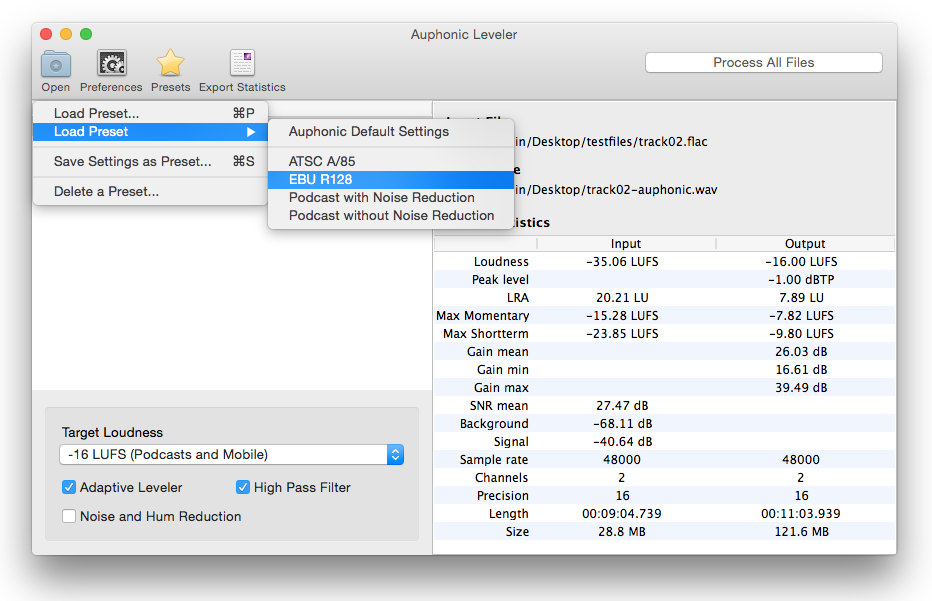 Screenshot of the Auphonic Leveler 1.4 with menu to load, save and delete a preset.
Updates in Version 1.4
The following new features were added:
Parallelization of Individual Algorithms:
Algorithms are now computed in parallel, also if you only process one single file.
This brings a big speed improvement when processing only one long recording, like for example a long podcast.
Presets:
It is now possible to create, load and manage presets in the Auphonic Leveler desktop program – see the screenshot above for details!
Audio Algorithm Improvements:
All audio algorithms come with many improvements, fixes and updated classifiers with data from our web service.
Mono Mixdown:
As many requested this feature, we added the possibility to generate a mono mixdown of the processed audio files.
Selectable Temporary Processing Directory:
You can now select a directory on your computer, where Auphonic puts its temporary files during processing. Choose a directory on a SSD for faster processing!
New Loudness Targets: -19LUFS
We added a few additional loudness targets, for example -19 LUFS.
Fixes for Mac OS X:
Auto Update:
The auto update feature, introduced in version 1.3, did have some problems on OS X which are fixed now. Mac users of version 1.3 still have to update manually for the last time – on Windows everything works as it should!
Menubar not visible:
On OS X 10.9 and 10.10, the menubar was sometimes not visible at first startup – this is fixed now.
New Code Signing:
Apple introduced a new code signing system for OS X 10.9.5 and later. We changed to the new system – you should not get any warnings by gatekeeper anymore!
Upgrade now!
Everyone is invited to upgrade to the new version for free.
If you already purchased the Auphonic Leveler or want to try it, then download the latest version here!