Until recently, Amazon Transcribe supported speech recognition in English and Spanish only.
Now they included French, Italian and Portuguese as well - and a few other languages (including German) are in private beta.
Update March 2019:
Now Amazon Transcribe supports German and Korean as well.

The Auphonic Audio Inspector on the status page of a finished Multitrack Production including speech recognition.
Please click on the screenshot to see it in full resolution!
Amazon Transcribe is integrated as speech recognition engine within Auphonic and offers accurate transcriptions (compared to other services) at low costs, including keywords / custom vocabulary support, word confidence, timestamps, and punctuation.
See the following AWS blog post and video for more information about recent Amazon Transcribe developments: Transcribe speech in three new languages: French, Italian, and Brazilian Portuguese.
Amazon Transcribe is also a perfect fit if you want to use our Transcript Editor because you will be able to see word timestamps and confidence values to instantly check which section/words should be corrected manually to increase the transcription accuracy: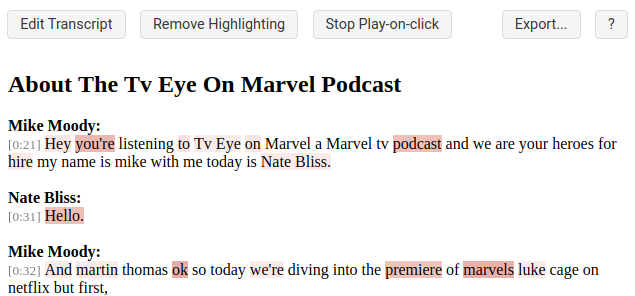 Screenshot of our Transcript Editor with word confidence highlighting and the edit bar.
These features are also available if you use Speechmatics, but unfortunately not in our other integrated speech recognition services.
About Speech Recognition within Auphonic
Auphonic has built a layer on top of a few external speech recognition services to make audio searchable:
Our classifiers generate metadata during the analysis of an audio signal (music segments, silence, multiple speakers, etc.) to divide the audio file into small and meaningful segments, which are processed by the speech recognition engine. The results from all segments are then combined, and meaningful timestamps, simple punctuation and structuring are added to the resulting text.
To learn more about speech recognition within Auphonic, take a look at our Speech Recognition and Transcript Editor help pages or listen to our Speech Recognition Audio Examples.
A comparison table of our integrated services (price, quality, languages, speed, features, etc.) can be found here: Speech Recognition Services Comparison.
Conclusion
We hope that Amazon and others will continue to add new languages, to get accurate and inexpensive automatic speech recognition in many languages.
Don't hesitate to contact us if you have any questions or feedback about speech recognition or our transcript editor!